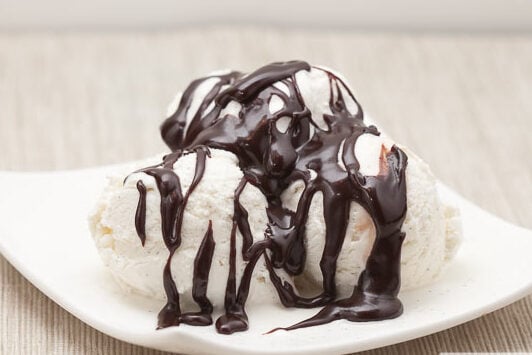 Why You'll Love This Homemade Hot Fudge Sauce Recipe
Just 7 simple ingredients create a mouthwatering fudgy flavor.
It cooks in one pan for quick preparation and easy cleanup. 
Made without corn syrup or strange additives, it's tastier than anything you'll find in the store.
Leftovers can be stored in the fridge to help satisfy your sweet tooth whenever a craving hits.
Easy to pour, drizzle, and spread, it's the best way to give all your favorite desserts an extra boost of chocolate fudgy goodness.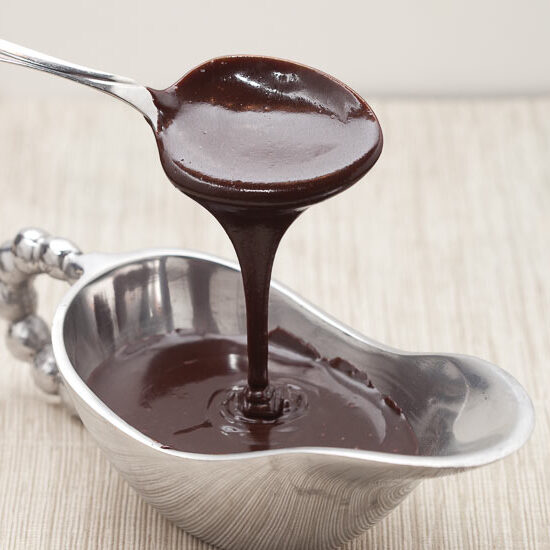 What's the Difference Between Hot Fudge and Chocolate Sauce?
Although similar hot fudge and chocolate sauce are not quite the same. The primary difference between the two is their texture. For instance, hot fudge is typically much thicker than chocolate sauce, especially when it's cold. It also has a much richer taste thanks to the inclusion of ingredients like heavy cream and butter.
Meanwhile, chocolate sauce remains silky and smooth regardless of its temperature and maintains a lighter, sweet flavor.
Key Ingredients
If, like us, you assumed hot fudge sauce required lots of ingredients and complicated steps to make, prepare for your mind to be blown. With just 7 baking staples, you can whip up a recipe that's absolutely crave-worthy and perfect for all your hot fudge sauce needs!
Semi-Sweet Chocolate – You'll want to make sure to use a high-quality brand like Ghiradelli for the best flavor.
Heavy Cream – This helps create a thick and creamy texture and a super decadent taste.
Brown Sugar – Used to sweeten the sauce while providing extra moisture to keep it smooth.
Unsweetened Cocoa Powder – This helps enhance the chocolate flavor for an even bolder, more delicious hot fudge sauce.
Salted Butter – Key to creating a smooth texture and indulgent flavor.
Vanilla Extract – Make sure to use pure vanilla extract and not imitation varieties in order to enhance the rest of the ingredients.
Kosher Salt – Although it might seem counterintuitive to add salt to something sweet, it balances everything out and makes for the absolute best hot fudge sauce recipe.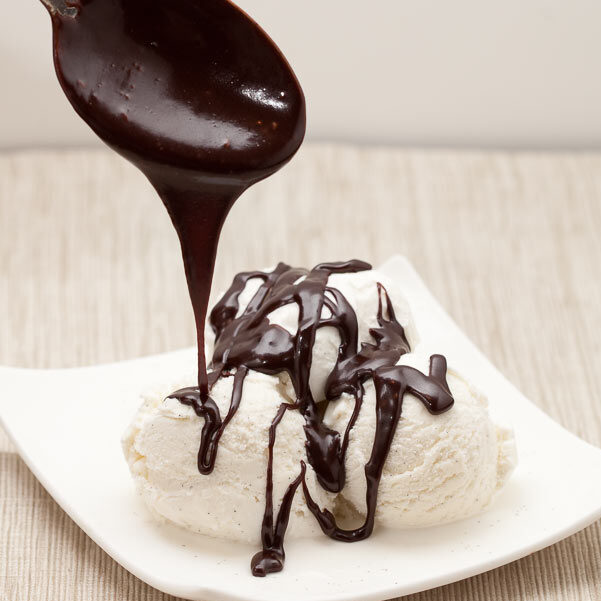 How to Make The Best Hot Fudge Sauce Recipe
This recipe comes together unbelievably quickly. So, be sure to have all of your ingredients nearby and ready to go.
Combine the ingredients. In a small saucepan, combine all of the ingredients over medium heat.
Boil. Raise the temperature, bringing the ingredients to a boil. Then, immediately reduce it to a simmer, and cook, whisking constantly for 5 minutes.
Cool. Remove the hot fudge sauce from the heat, let it cool, and enjoy!
Pro-Tips for Fudge Sauce
Now that you have everything you need and know how to make this hot fudge sauce recipe, we've got a few tips and tricks to ensure it never goes awry.
Stir constantly. Similarly to how you make fudge, hot fudge sauce needs to be stirred continuously to ensure the ingredients combine completely and turn out smooth.
Let your fudge sauce cool. As it cools, this sauce will begin to thicken and become just slightly chewy allowing it to cling to and preventing it from melting whatever you're pairing it with.
Don't overcook. Make sure to reduce the heat as soon as you see the mixture boil. Otherwise, the chocolate might cook too long and will become grainy and not very pleasant to eat.
Use a different chocolate. We typically use semi-sweet chocolate and find it super satisfying. However, feel free to experiment with different brands and flavors to suit your preferences.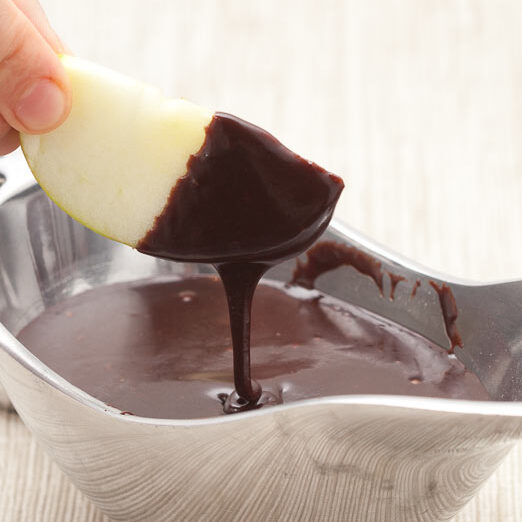 Serving Suggestions
Honestly, we wouldn't judge you if you ate this hot fudge sauce straight from the jar with a spoon. Seriously, it's that good! However, if you want a little more elegant approach, try pairing it with all your favorite snacks and desserts such as:
How to Store Hot Fudge Sauce
This recipe is famous for disappearing almost immediately. However, if you do have leftovers, they can easily be transferred to an airtight container or jar and stored in the fridge for several weeks or in the freezer for several months. 
When you're ready to enjoy, allow your hot fudge sauce to thaw in the refrigerator. Then, warm it on the stovetop or in the microwave in intervals of 15-30 seconds, stirring in between. Just be careful not to scorch your sauce as it will ruin the taste and texture if you do!
---
More to Cook and Eat
---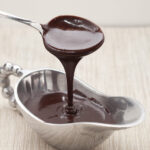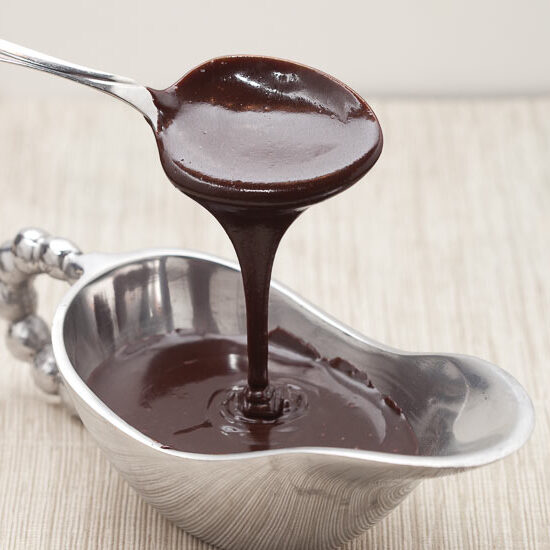 Hot Fudge Sauce
Featuring the perfect balance of sweet and fudgy flavors and a smooth, buttery texture, this homemade hot fudge sauce is made with simple ingredients and no corn syrup for the ultimate dessert topping. Drizzle it over ice cream, cake, waffles, and more! 
Servings: 12 servings
In a small, heavy saucepan over medium heat, add all the ingredients, whisking to combine.
Bring the mixture to a boil, whisking constantly.
Once boiling, immediately reduce the temperature to low, and simmer for 5 minutes.
Remove the pan from the heat, and let the fudge cool before serving.
Store leftover sauce in airtight glass container in fridge for future use.
Store any leftover fudge sauce in an airtight jar in the fridge for up to several weeks. Sauce can also be frozen for 2-3 months.
If you enjoyed this recipe, please come back and give it a rating ♡
Serving: 1serving | Calories: 54kcal | Carbohydrates: 5g | Protein: 0.4g | Fat: 4g | Saturated Fat: 2g | Polyunsaturated Fat: 0.1g | Monounsaturated Fat: 1g | Trans Fat: 0.02g | Cholesterol: 7mg | Sodium: 6mg | Potassium: 36mg | Fiber: 0.4g | Sugar: 4g | Vitamin A: 89IU | Vitamin C: 0.03mg | Calcium: 9mg | Iron: 0.3mg
Did you make this?
Leave a comment below and tag @chewoutloud on Instagram