Wednesday's Food Fair on St. Thomas will be a new take on a Carnival classic.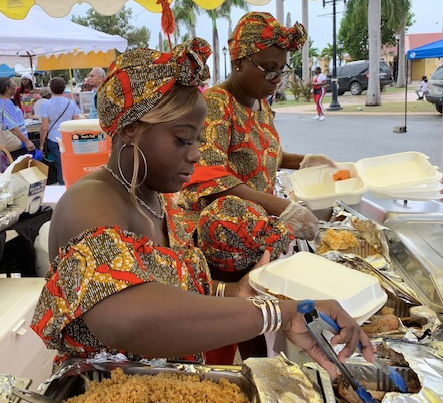 Not only has the venue changed from Emancipation Garden to Crown Bay, but "it should be a little more organized," according to the woman who has the responsibility for running it, Lou Anne Roberts.
That's because a group of Charlotte Amalie High School students in Shamang Straun's architectural drawing class took on the task of designing the layout of vendors' spots.
Another difference is that the Fair is likely to draw an unusually large number of tourists to mix with the multitude of local fans because the Allure of the Seas will be at the Crown Bay cruise ship dock on Wednesday.
What isn't changing is the core of the Fair. There will be the usual abundance of local dishes, Roberts said. That means things like lobster, whelks, conch, roast pork, peas and rice, coconut treats, soursop and maubi, and "just about everything."
"I have 125 vendors," Roberts said, including six from St. Croix and one from St. John. About 35 of those are people offering arts and crafts items; the rest are food vendors.
If you're looking for a painting or handcrafted jewelry, wander in the courtyard area or along the water's edge. If you're hungry, follow your nose to the parking area where the food booths can cater to your tastes.
As usual, there will be plenty of live entertainment. Performing throughout the day will be the Rising Stars Steel Orchestra and the St. Thomas Allstars steel pans, Stanley and the Ten Sleepless Knights, and the When Band, Roberts said.
Some government agencies, including the Health Department, the V.I. Lottery, and the Banking and Insurance Division of the Lt. Governor's Office, will staff booths offering services and information to Fair-goers, she added.
Ceremonies will take place at about noon and will include the coronation of Carmen Sibilly as Carnival Queen in honor of the 70th anniversary of Carnival on St. Thomas. Sibilly reigned over the first event in 1952. See related story here.
The Fair is scheduled to run from 9 a.m. to 4 p.m., but Roberts said some vendors might set up earlier in an effort to lure cruise ship passengers who may disembark before that. As always, there is no admission fee.
This year, it's "Helen's Cultural Courtyard Cuisine," so named in honor of Helen Hodge, who has been offering local dishes at Food Fair since 2001.
The Fair was yet another victim of the COVID-19 pandemic in 2020 and 2021, so this is the first one to be held in three years. It is also the first since the government took over managing the event in 2020 from the Carnival Committee, the community group that ran it for decades.
Roberts said she is keenly aware that people will be judging events carefully in light of the change-over. Like many of the people working with the Tourism Department's Division of Festivals, she is a veteran of the Carnival Committee.
While she has worked on many other aspects, this is her first time running Food Fair. She said from the time she was assigned in 2020, she has reached out to other veterans to get their guidance and is particularly grateful to Windy Fahie Donovan and Ingerborg Marrero.
When planning began in earnest for Carnival 2022 back in December and January, "the numbers (of COVID cases) were high," Roberts said. That's when the decision was made to hold the Food Fair at Crown Bay, which is partially fenced, rather than in a more open area. The idea at the time was that it would be an event open only to those who were vaccinated, and people's status could be verified at entrance points.
Then the numbers decreased. Although the territory has recently seen a bit of an uptick, Food Fair is still not going to be restricted. However, Roberts said she does encourage both vendors and attendees to get vaccinated if they aren't.
With COVID still casting an ominous shadow, the 2022 Carnival is considerably smaller and shorter than celebrations of the past. But the spirit is strong, Roberts said, and she is expecting a great turn-out for Food Fair Wednesday.
"I think we have been locked down for one too many years, and so people are super excited," she said. "Everybody's looking forward to these four little days."